What Are The 4 Branding Strategies?
Building a brand is not a simple thing but, I can guarantee you it is one among the best achievements you will be pleased with. So what branding strategies should you use for your business.
Your brand is extremely important because it's not almost the beauties of it then on. It is all about how you show it out to others through advertising it, ensuring that it matches with the values of your business. That is what defines your brand.
What brand strategies have you ever implemented to communicate to your customers and competitors?
But first, What is branding?
"The act of giving a company a particular design or symbol in order to advertise its products and services."
A brand defines what your business is all about. It helps you to be unique and appear different from other competitors who are in your marketing niche.
Your customers should have a memorable sense of feeling once they purchase something from you. Make them have a reason to return back.
Why is branding important for your business?
A brand is important because it increases value, gives direction.
It also creates a one of a kind experience for your customers because, you have built trust in them by making your business professional and the quality of your service is top-notch.
It also motivates your workers in the working space since they know what kind of service is expected from them and can help build your brand together with you.
To build a brand, you must have strategies for it to succeed in the market especially when you have very high competitors.
What do you understand by the term "Branding Strategies"?
It refers to a plan that focuses on making a brand successful.

Image Courtesy: Corporate Finance Institute
When you involve brand strategies, it does not matter the dimensions of your business. Small, medium, or big. What matters is the strategies that you simply are using. The image of your company determines your growth within the market.
A good example is Safaricom.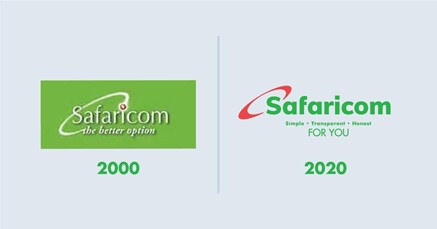 How it started vs. How it is going
(Image Courtesy: Safaricom Twitter)
Safaricom is a company in Kenya that has been leading in the Telecommunications sector since the year 2000. This is because, they have always maintained their brand strategy and have had numerous successes.
How did they begin their success?
Before Safaricom took over the telecom industry in Kenya, Kencell (currently Airtel) was the no. 1 leading mobile network. Kencell sold their SIM card lines for Ksh. 2,500. For Safaricom to beat them to their game, they planned to lower the prices and sell the lines at Ksh. 100 under the leadership of Michael Joseph.
Implementations of introducing the M-Pesa services for transactions has made Kenyan lives easier rather than sending money via physical emails.
Why is Safaricom still leading today? Because they have ensured that they kept their brand strategy intact that will last for the longest time to serve their customers better.
Does this example relate with your business brand strategy? Do you now have a better understanding regarding brand strategies for your business?
The thing is, you do not need to change a lot of things about your brand. Look for what is necessary that will make your mass come back to you and purchase more from you.
Now that we are on the same track, let us look at how some of the branding strategies will help you build your brand:
1. Brand Identity
What is the goal for your company? It is important that you simply know what your brand identity is and what you would like it to be.
Also, create your brand's visual identity and confirm that you simply take a while to urge your vision of your brand identity bent your audience and make use of social media to interact with consumers and to post your content
2. Brand Image
Your brand image is the same as your brand identity.
Public Relations will assist you raise awareness of your brand. Content will help to extend brand awareness by bringing in traffic to your company's website (If you have, that is).
You should consider it because of the reputation you have with your audience.
3. Brand Personality
Learn who your audience is, engage together with your audience by developing a brand personality.
Get your audience to relate with your business to connect with them on an emotional level in the process of creating your brand.
4. Brand Culture
It is the culture that a corporation cultivates so as to competitively deliver its brand. A brand is only alive when people work together as a team.
Make sure that your company reflects your values because your brand culture is hooked in to your ability to embrace your own values within your company.
Define exactly what your values are and the way your company lives out those values.
As we conclude,
Now that you are aware of the 4 branding strategies, go ahead and do proper planning on how to implement it if you are a start-up company brand.
If you need to do corrections on your previous strategies, make sure that it is better than the first or second one. If you need to do a few changes, make sure it is more attractive.
For more questions,
Email: [email protected]
Tel: 0708 088 114
Visit our website www.twiva.co.ke.