When you hear the words Social Media, you automatically know them as networking sites. Right? Common platforms are Facebook (Meta), Instagram and Twitter to be specific.
As the years go by, the world of social media changes too. Everything is being updated with new features being implemented. Users are using them on a daily. It has become the new norm.
But really, what are the 6 types of Social Media platforms?
What is a Social Media networking site?
It is a virtual community that lets users interact with friends, share content, meet people with common interests and create profiles.
Many people use these platforms on a daily. Watching tutorials on YouTube, tweeting about what is trending and networking with others on LinkedIn.
Statistics show that,
"57.6% of the world's population uses social media on an average of 2 hours and 27 minutes" (Source: Smart Insights)
Here are the types of Social Media Platforms:
Social networks
Blogging networks
Discussion forums
Image-sharing networks
Social Review networks
Video-sharing networks
Each of these platforms have their own platforms or applications that show what the platforms are about.
Here are the Social Media users in Kenya statistics according to Napoleon Cat for 2021:
January 2021 users:
Facebook: 10.4m
Instagram: 2.2m
Messenger: 9m
LinkedIn: 2.6m
December 2021 users:
Facebook: 12.2m
Instagram: 2.6m
Messenger: 10.2m
LinkedIn: 2.9m
The standout results show that there is growth from the usage of social media in 2021 and users are even more engaged in the recent year.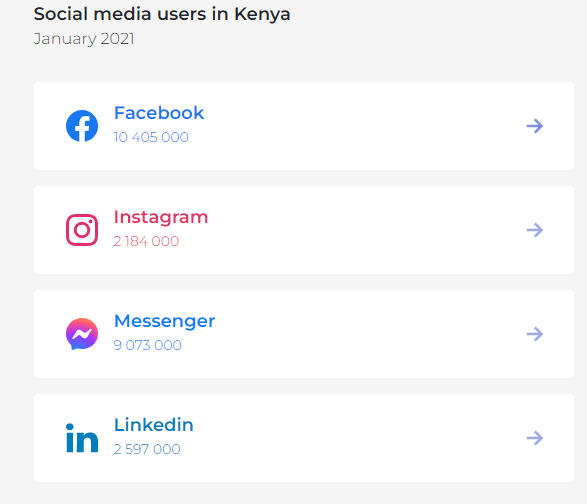 This is because, people want to interact with others over the internet. It has become popular in demand. You get to share and experience different interests from others.
How about we take a look at the six different types of social media platforms and see which is convenient for each of them:
Social Networks:
Instagram
Facebook
Twitter
LinkedIn
The above networking sites let users connect with each other to share common interests and when it comes to business, people become interested with the brands they see and look for.
Users can share their thoughts with other people, create content, and upload multimedia (photos and videos). You can also build connections between your brand and individuals, and have online conversations.
By using successful metrics such as liking, sharing, tweeting and commenting/replying to other pages, you can be able to reach wider audiences that end up creating an online relationship with you because you know each other through the social platform.
Blogging networks:
These form of networks provide you with a chance to put in writing and publish about your thoughts of the day, current events and more.
You get to enjoy the benefits of making your own blogging site. You can advertise your blogging websites on your socials to draw in other readers who are trying to seek out interesting content to read.
To drive more traffic to your site, write blogs in unique creative ways that will attract readers in the same niche as you.
The platforms include:
WordPress
Tumblr
Medium
Blogger
Discussion forums
This forum allows people to share ideas and answer questions from each other. You can create marketing campaigns. Such sites are used for giving out the best answers to common questions that may be asked on the internet.
The platforms include:
Clubhouse
Quora
Reddit
Steam

Image-sharing networks:
These social media platforms let users share photos and media related content.
They provide a platform to inspire others, show their creativity, and encourage customers to speak about you a brand or a product.
The platforms include:
Instagram
Flickr
Google Photos
500 px

Social Review networks:
Customer reviews can help you identify problems that customers are sharing and might provide you with the permission to reinforce their experiences over time.
These kinds of social media networks let you find and share reviews on products, food, travel and different kinds of services, among others.


The platforms include:
• TripAdvisor
• Google my business
• OpenTable
• Yelp

Promoting positive reviews and thoughtfully handling negative ones can make your business more popular and boost brand awareness.
Video-sharing networks:
Video hosting platforms give creators a way for streaming videos quickly to their target audience. If you are a brand, you can use paid ads to reach out to new customers.
The platforms include:
YouTube
Vimeo
TikTok
Facebook Watch
Most of those sites offer social features. It gives a user the option of commenting on uploaded images or videos that you have posted on the platforms.
These platforms encourage user-generated content where anyone can create, and share the creativity that speaks about them.
In conclusion,
Now that you are alert about the various forms of social media and you understand, you will see which network most closely fits your brand and the way you will be able to compare these platforms to realize your business goals.
As with all things within the digital marketing sector, social media shifts and changes day by day. Everything may look different a year from now.
If you are having any more challenges about social media, kindly contact us at:
Email: [email protected]
Tel: 0708 088 114
Visit our website www.twiva.co.ke.