As a small business owner in Kenya, your main aim is to ensure you achieve maximum sales of your products. However, you can do this without marketing your brand and the products you are offering.
Imagine an influencer marketing app that pays in Kenya, cutting through your budgeting costs by helping your business market easier and faster in a social media atmosphere that has huge returns?
Is this worth it in the modern age of high mobile connectivity in the country?
The rhythm doesn't slow down there, at the same time you might be an influencer. Getting extra cash is always a desire of every Kenyan, as I am too.
Twiva Social Commerce and Influencer Marketing App that pays in Kenya has been helping so many small and medium-sized enterprises in Kenya in the last three years.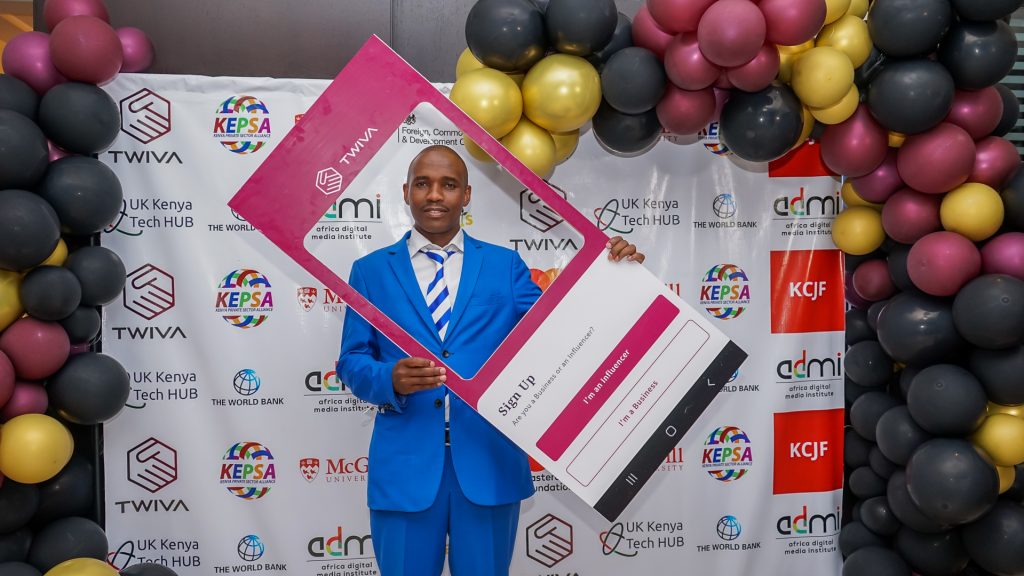 By allowing business owners to activate influencers, successfully managing top-notch influencer marketing campaigns to an extent of providing the businesses with more defined social ads that work today, Twiva bridging a market gap that has never been done before.
While the country continues to bloom with good and faster internet connectivity than our neighbors, the effects of increased levels of mobile interactions have been so direct that Twiva couldn't ignore them.
The Covid-19 pandemic activated a new active phase of SMEs in Kenya, thanks to major retrenchments from different companies resizing.
It was an era where you can remember there was a rapid rise of Generation Z content creators, arguably the best you can you today if you need faster conversions.
The situation was no different for Twiva. Most SMEs have been investing so much of their time trying to identify active means to scale their businesses independently but have not yet succeeded.
While you continue to fall into those groups of business owners, a good number of winners are already enjoying the leading Social Commerce and Influencer Marketing App that Pays in Kenya.
Why is Twiva the leading Influencer marketing app that pays in Kenya?
Unlike other Influencer marketing app that pays in Kenya, Twiva is helping you as a business owner get value for the money in marketing by executing the final sales process for you with just a click.
At the same time, your business will be able to access thousands of influencers who have the best engagement interactions with their followings. A vice versa of the same happens too when influencers want to market and sell your products.
The most unique feature about the Twiva influencer marketing app in Kenya is its ability to align both business brands and influencers in an interface when marketing and selling are seamless, interactive, and user friendly.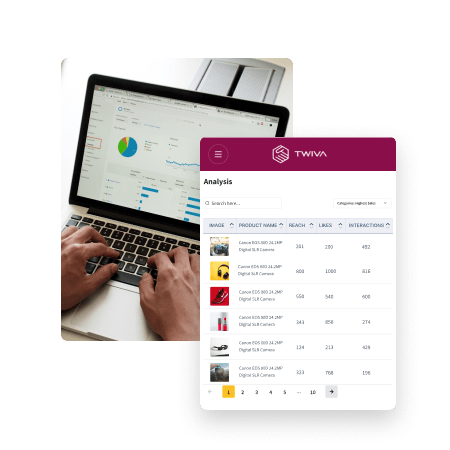 The platform is bringing closer all the available marketing skillset by investing more on the online marketing capacity already streamlined by vast mobile/internet connectivity.
According to Twiva's Chief executive Officer, Peter Kironji, there has been a huge gap in the market for small businesses who had been trying for a long time to scale in a competitive Kenyan economy.
"Even though micro small and medium enterprises (MSMEs) hold more than 70 percent of the economy, most of them suffer from a lack of affordable, accessible, effective, and digital access to the market," said Mr. Kironji in an earlier interview with Vybz Radio.
Getting into specifics of benefits for each group;
| | |
| --- | --- |
| Benefits you will get as a Business | Benefits you will get as an Influencer |
| Quick Influencer activation. | Make extra cash. |
| Wider access to markets. | Becoming brand ambassadors. |
| More brand awareness. | Get gifts and vouchers from brands. |
| Faster sales conversions. | Improve their content creation strategies. |
| Cut off huge social media marketing costs. | With the promoting brands following, you will get more traffic on your platform. |
| Favorably compete with other businesses in your niche. | Makes you an outstanding thought leader in the society. |
| Identify accurate KPIs that will form part of your future marketing strategies. | 100% commission immediate payouts from each individual conversion. |
All these features and advantages were being done individually before Twiva stepped in. you must have noticed there are independent Influencer marketing agencies at the same time eCommerce platforms that are trying to cultivate the growth of the Kenyan economy aggressively.
Twiva is cushioning you the need to move into different stalls for a particular service. As the leading and pioneer influencer marketing app that pays in Kenya, Twiva infuses the power of social commerce (Social Media selling) with influencer marketing into a hub of engagement that relates easily with your desired market.
Too many of the benefits for you right?
Let's now understand how the app works best for you.
Twiva Influencer Marketing App that Pays Performance.
This is where the rubber meets the road!
Do you want to know how to sign up? Make extra cash from sales conversions? Get gigs? Initiate an active and engaging Social media marketing campaign?
There is no need to worry, here let's go….
Twiva Influencer marketing app that pays in Kenya has two ways of signing up whether you are a business or an influencer;
Through the website version – The web version of their platform is optimized for both businesses and influencers who need to sign up.
For a business signing up you will be prompted to create a profile account that will be able to showcase an aerial outlook of your brand. Mostly, here you need to make your business look different and how unique your products are from the competitors.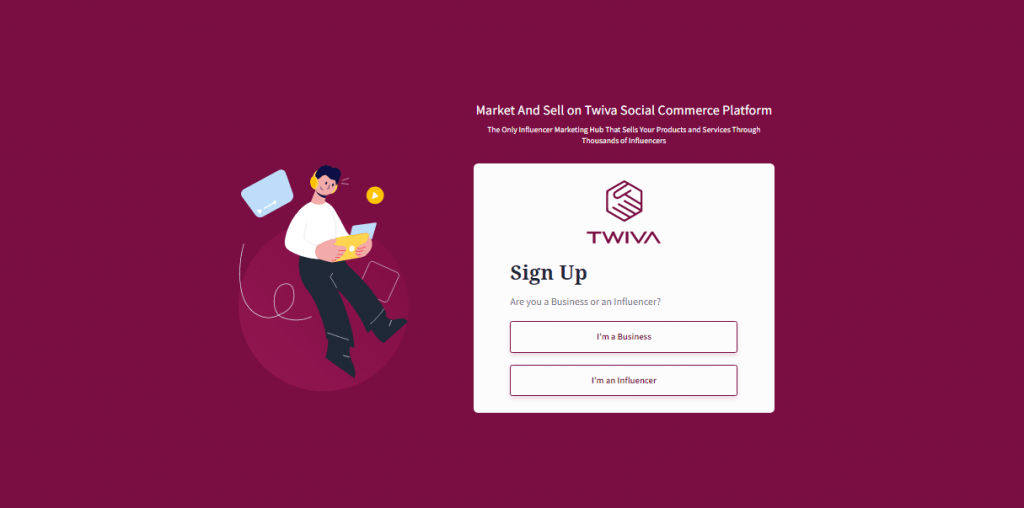 Set? Now you can list your products with individual specifications and descriptions on your catalog provided in the dashboard.
As an influencer, the process looks different. However, here the app will prompt you to create an e-shop that will be connected to the app for products amplifications.
Have challenges connecting your e-shop with the Twiva App? Watch this video.
Once you are set, it is easy now for you to pick products from the listing provided by the small businesses in the platform, match them with your rate card and continue amplifying them on your connected social media platforms.
Typically, there are so many influencer marketing apps in Kenya that pay. But building your business an influence on the leading influencer marketing app like Twiva will save you more than you could on the other platforms.

Final Thoughts on Influencer marketing apps that pay in Kenya.
The growth of mobile connectivity in Kenya has quickly changed the way businesses interact with their customers. It is quite clear that as a business you want to get more from the market, whether invisible or visible, sales are always important.
You can't achieve this while trying to double-clutch with agencies that will not give you immediate results. Twiva, unlike these other agencies, has the best process of connecting your brand with the right market that is wide and immediate in sales conversion.
Influencers, on the other hand, have been cushioned the liability of looking for a brand to work for them. This influencer marketing app that pays in Kenya is already solving the challenges of pitching proposals to relevant businesses.
The future of businesses and influencer marketing is here.
"Social media is not just an activity; it is an investment of valuable time and resources. Surround yourself with people who not just support you and stay with you, but inform your thinking about ways to WOW your online presence."

Sean Gardner, digital marketer, keynote speaker, A.I. specialist, and author.
Interact with us for more information on [email protected], Tel: 0708 088 114 or visit our website www.twiva.co.ke to understand more strategies.