They always say, "Fashion you can buy, but style you possess. The key to style is learning who you are, which takes years. There's no how-to road map to style. It's about self-expression and, above all, attitude."
Fashion celebrities in Kenya are taking the industry of influencer marketing by storm. Who are they? What are they doing? How are they different? These among other questions will be answered in this article.
So many Fashion celebrities in Kenya have shown us that simple dress codes can also be elegant. Their diverse approach to style is what attracts brands to work with them. Do you want to know, how and why they utilize their influence in Kenya? Let's go;
List of 10 Influential Fashion celebrities in Kenya in 2022
The city pastor is one of the few influential Fashion celebrities in Kenya. His unique style and elegance in fashion suits have stepped up Burale's game to be one of the most looked-up to heads for the Nano and Micro-influencers in Kenya.
His uniqueness of style draws attention to a high-end sense of official suits and a little taste of Godfather caps. This look would ultimately take you away!
Lulu Hassan together with his husband, Rashid Abdalla would probably rock your taste in fashion. Their unique sense of style when presenting will always distinguish them from other News anchors in Kenya.
The Duo who can now brand themselves as prolific fashion celebrities in Kenya are also parents of three and would always rock their outdoor experiences in a deep sense of Swahili fashion.
Catherine Kamau Alias Kate Actress is undoubtedly one of the most influential Kenyan Fashionistas. The celebrated actor loves walking out in a style that makes her simple yet classy.
In the league of fashion celebrities in Kenya, Kate's sense of style has always attracted the attention of most Micro and Nano influencers in Kenya. Kate Enjoys wearing long African dresses that extrapolate her confidence and class at once while walking.
Most people refer to him as the "Sultan of 001". The Mombasa-based politician has always left many women both online and on-ground salivating about his unique sense of casual and comfortable style.
Copying most of his attires from the ancient Arabic royalties, Joho is typically one of the most influential fashion celebrities in Kenya. A few influencers such as DJ Shiti, have been quoted copying his unique sense of style and haircuts.
Most people would rarely discover him with his real name. Picking his character from the popular local TV series Maria as Luwi Hausa, Brian Ogana has been carrying quite a signifiable taste in suits.
Most upcoming fashion celebrities in Kenya would certainly want to walk and feel the same way as him when it comes to Suits and masculinity.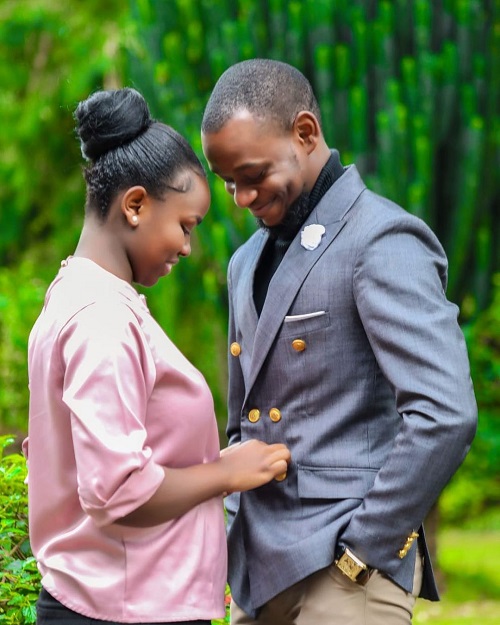 Madam "Boss chick" would probably kill the show when it comes to wearing any kind of fashion in town. From dresses to pants, pajamas you name it, her style will still rock.
As a celebrity fashion influencer in Kenya, Huddah's sense of style comes with boldness as she represents the strength of all entrepreneurial women in Kenya with influence.
Young, bright, charming, and beautiful Wabosha is what describes her best as one of the best fashion celebrities in Kenya. Wabosha would always give you a smile on her first interaction.
Her beautiful smile goes in a long way to remind us, that fashion is fashion when you learn to love it and possess it. Wabosha will always rock her outdoor events on nice casual pants, official wears with a number of cute little dresses.
To most ladies in Kenya, Sean Andrew will always be a dream of everyday. The grandson of the late president Mwai Kibaki has been stepping into the game of male fashionistas in Kenya with something unique, simple, and attractive.
Being one of the few silent fashion celebrity influencers in Kenya, Sean would enjoy casual official outfits that blend with different occasions he attends.
Felix Odiwuor (Alias Jalang'o) is a popular comedian and radio presenter in Kenya. His ability to move and entice the crowd with his heavy and charming accent has enabled him to host high-end events as an Mcee.
Jalang'o enjoys a blend of casual looks blended with African traditional fits. Rocking out with such looks on different occasions makes him stand out. At once he had a signature look for most of his comedy skits.
The powerful Sauti sol lyricist and vocalist would certainly rock your day with his casual vintage sense of style. He is among the very few artists in Kenya who fall into the category of most followed fashion celebrities in Kenya.
As an Influencer in Kenya, Bien taste has always been unique. His bald nature makes his sense of style blend smoothly with most vintage looks that reflect on their music too.
There you have; the 10 most influential fashion celebrities in Kenya you need to know in 2022. If you are a Micro or Nano influencer in Kenya, and Fashion is one of your desirable niches then I can advise you to go for it.
So many fashion brands are massively head hunting influencers for their gigs as we interact with them.
Is your favorite celebrity on this list of the most fashionable celebrities in Kenya? Let us know!