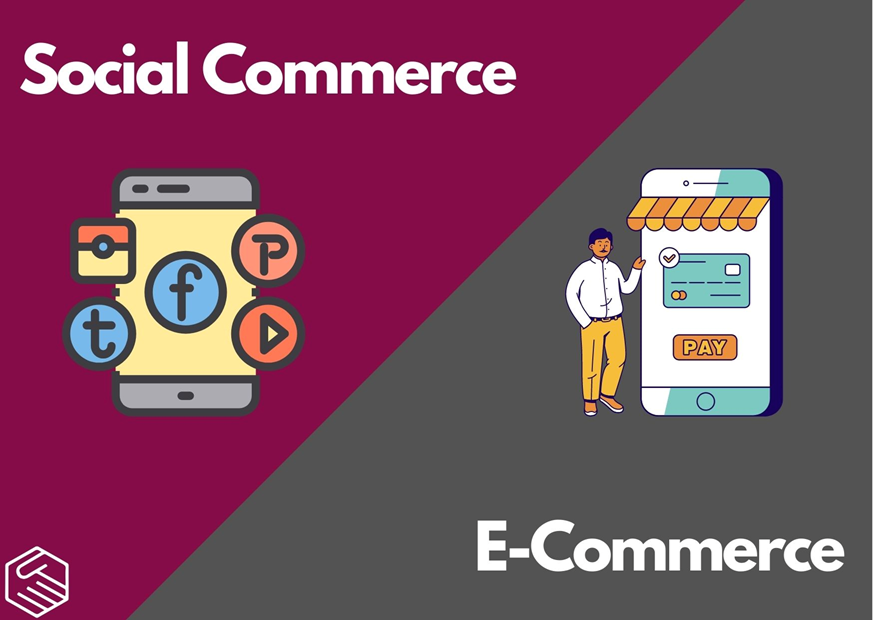 How much do you understand E-commerce concerning Social commerce in Kenya? Do you prefer buying products using a referral app or from your favorite social media platform?
Well, the point is that social commerce is just a subset of E-commerce. As we monitor our social media pages, you will notice that there has been an undergoing evolution over the years.
Whilst we focus mainly on communication and individual networking many brands and individuals began connecting slowly in progression.
You can quickly remember, how the 2020 abrupt government lockdowns triggered a lot of innovation for the sake of survival and persistence. The growth of E-commerce began slowly as many consumers began craving more for social experiences that were only in-person, brick-and-mortar shopping could just provide.
The rise of online shops became familiar to all of us by the passing time, as individual E-commerce took another form in various social media platforms such as Facebook and Instagram.
Though, the two themes almost substantiate each other at a closer range. In this article, we will help you get the core differences between E-commerce and social commerce.
We are going to emphasize majorly on the stats and explanations for you to get a clear picture.
The exponential growth of the Internet in Kenya has been among the key factors brewing more change in the way people buy and sell goods and services. Using both the social media landscape and the websites, everyone is looking for the cheapest and the simplest ways to buy.
The world of online shopping is now everywhere as businesses like you try to invest in their online space for the sake of their customers. How these two terms interchange with each other might look confusing though.
Here, let's help you understand how they differ from each other.
The difference between social commerce and Ecommerce
Have you ever purchased a phone, earphones, sneakers, or anything else online? Maybe you've used the internet to sell your old phone or camera! A surety is you must have interacted with an E-commerce platform along the way.
The revenue generated by E-commerce is expected to reach US$3,562 million by the end of 2022 in Kenya. With a projected market volume of US$, 1,377,161 by the end of 2022 china will be the leading E-commerce hub for the Kenyan market.
According to statistics, the number of users interfacing with E-commerce is projected to amount to 32.1million users by 2025, as the user penetration rises by 40.3% in 2022 and shoots of more than 13% expected in 2025.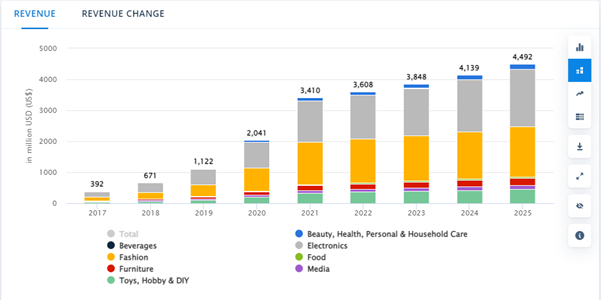 Image: Statista E-commerce.
"E-commerce", is derived from the term Electronic commerce, a process where businesses interact with their customer by buying and selling using an electronic medium.
What you need to understand also is that E-commerce often operates in four major market segments which are often conducted via computers, smartphones, tables, or any other smart device.
These major market segments are;
B2B (Business to business) marketing, refers to the marketing and selling of goods and services to your fellow businesses.
B2C (Business to consumer) marketing, accommodates all the methods and techniques that your business will use to advertise the goods and services to individual consumers. These processes may include developing, promoting, or maybe distributing products to customers on the daily basis.
A consumer-to-business (C2B), customers selling products to your business or company, this process will help your business gain a lot of value from the customers and consumers.
The last one, Consumer-to-consumer (C2C), where customers will only interact with each other in buying and selling, using a third-party enterprise or website. C2C businesses came into existence as a result of the growth of E-commerce technologies.
In Kenya, you will notice that almost every product and service available uses the power of E-commerce. Mention them, music, plane tickets, financial services, books, and even online banking as such considered as a disruptive technology.
Examples of E-commerce platforms in Kenya are Jumia, Kilimall, and Jiji Kenya while Amazon and Alibaba take the global renowned space.
Now, what is Social Commerce?
Open your Facebook or Instagram account.
So you see people selling commodities all over from their profiles? Try to click one and see if there is any response.
The power of social media has come to an age where E-commerce is building itself among the various social media platforms.
Therefore, "Social Commerce" is just buying and selling commodities via social media. These types of social media platforms include WhatsApp, Facebook, Twitter, Instagram, and even Tiktok.
The way people are actively buying and selling using Facebook and Instagram even today can help you visualize how the former use of these platforms has been revolutionized.
The era of social shopping in Kenya is already here, and many Kenyans will now be shifting to the only place where they can get anything they want with just a click away.
Social media is the future and if you are just going without engaging your customers through Facebook, Instagram, LinkedIn, WhatsApp, or Twitter then you are missing out!
Unlike E-commerce, Social Commerce just provides an easy of just looking, clicking, and ordering your product. Customer experience has been elevated here by the use of social media shops that have eliminated the complex processes of purchasing.
You must have noticed that these social media shops, allow you to quickly pick products of your choice and complete the important checkout processes without having to think up and enter accurate queries in just a few steps.
As a business or a seller, you must invest in your product's visual quality, because actively acts as the first impression for your customers, to those who have a social media addiction.
The rise of Influencer marketing and Generation Z who use social media as their engagement channel has been part of the building pillars of Social commerce.
We can't deny the fact that these two groups are undoubtedly the most significant factors for the growth of social commerce in Kenya. Social commerce is the future of shopping in the country.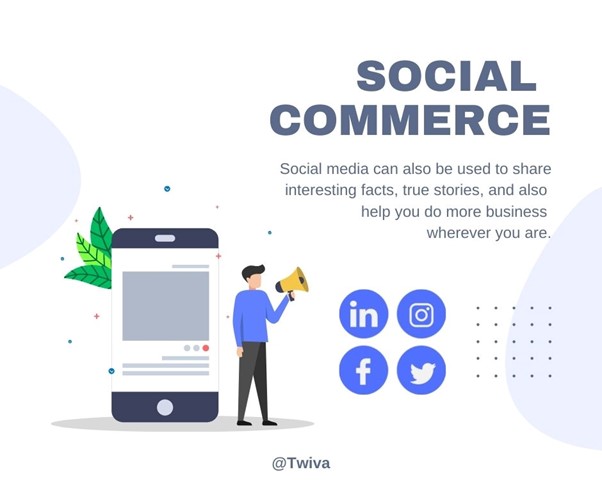 Therefore, as we conclude, we can bravely say Social commerce is shaping the basics brought by E-commerce.
Technology has brought us to an age where an individual app can help you market and sell to multiple platforms as a business by just signing up and aligning your services and products.
Unlike E-commerce, social commerce gives you a marketing advantage over social influencers who catalyze your sales at a very faster rate. Even though there shows to be a thin line between Social commerce and E-commerce, they at one point substantiate one another.
As a wise business person, it would be important to focus on Social Commerce actively, as it builds on more characters and effectiveness of E-commerce.
You can easily get started with social commerce here!
Any more challenges can be easily solved when you contact us at [email protected], Tel: 0708 088 114 or visit our website www.twiva.co.ke.