You've been sending us so many questions regarding social media marketing.
What is social media marketing? Is it profitable? How do I get started? What are some of the most profitable social media channels? Why should I care about social media marketing?
Well, there is no need to panic, because by the end of this article you'll be equipped with all the answers you need and even more.
We all know social media is popular in Kenya. 
However, this comes with some operational capabilities for your brand business. Social media marketing has given you so many open chances to reach out to your customers.
But before you get down this path of investing your budget and resources into this kind of digital marketing, you must foresee the expectations prior.
Most importantly you need to know if the idea will be profitable for your business or not.
"Social media marketing is profitable. When you set up good performance metrics like specific targeting of your audiences, understanding your demographics, building upon best channels and not forgetting being consistent with social media."
From your questions, I realized that there is so much of "Why What and How's".
As a business, your main aim is to try every means to be profitable. Use all the best practices in marketing just to boost your sales funnel.
And if you've been considering social media as part of your marketing platforms then, trust me you are home. Let's dive deeper as I get you started with all the best armory at your disposal to enjoy the best out of social media.
Profitable Social Media marketing channels for your business.
As we have seen, social Media's marketing involves tools specifically in social media.
Building up your focus in these social channels, by putting your heart and soul in them will automatically bounce back on you, ultimately positively.
Identifying the perfect channel to build your social media marketing strategy might look hard but once you familiarize yourself with what your customers demand there, you will set your foot beyond others.
Sometimes, social media marketers lean towards certain performing pillars such as demographics, size of the audience, location, engagements, and familiarity among others.
But how will you narrow down these social media platforms, just to identify the best platforms that will be profitable to your business?
Don't stress, you can easily have the most powerful marketing channel when you invest the right resources and time.
There are several social channels that marketers perceive to be the best and highly profitable platforms for businesses which you need to know.
Facebook is already building up its soft presence for businesses like yours by creating E-shops, an idea that has been tapped perfectly by Instagram and Tiktok.
Check out these mind-blowing statistics as captured by Statista;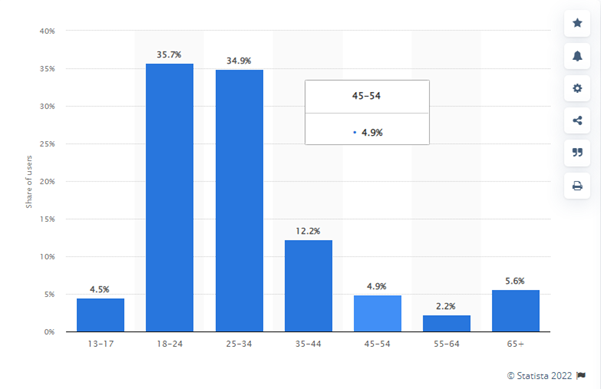 The statistics above are from Facebook relating to the first three quarters of the year 2021.
As you can notice, the numbers are figuratively high with the active ages between 18 and 45 leveling high in the indexes.
These are the demographics that have almost the highest purchasing power in Kenya.
Something unique about the Kenyan market on Facebook that you need to understand is that, with more than 2.6 billion users worldwide, it has managed to have over 8.7 million users as of December 2021.
The majority of these numbers accounted for at least 16% of our entire population, the majority of them are men standing at 57.7%, and the rest representing the other groups.
We cannot disguise the remaining 42% who are almost entirely women, since their purchasing power has already been felt on Facebook, however, most initiate their sales Onn Instagram.
Therefore if you are eyeing a marketing opportunity in social media, Facebook is the number one go-to platform due to its huge traffic.
What you need to emphasize here is to build up posts and messages that are light and fun since the atmosphere here is not as complex as other platforms, that's why you find many people here.
I hope you can easily bank on this?
The second profitable social media platform in Kenya is Instagram!
From being a fancy gallery sharing platform, Instagram has been actively building up its social shopping presence and your business must also consider having a booth here.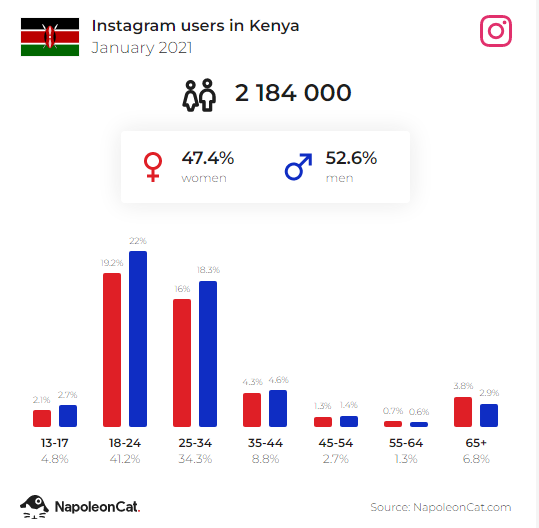 What can you to deduce from here;
The statistics above depict a buildup gap of how many Kenyans interacted with Instagram in the first quarter of 2021.
Instagram has been trying to leverage more on social media marketing for quite some time now. Many businesses have been building up here, unlike Facebook, the biggest percentage of users on Instagram are women on a slow scale.
When building up a social media marketing strategy for Instagram, it would be wise enough to invest in beauty, fitness, cloth line, travel among other fancy businesses.
Facebook accommodates a huge pile of all these which are easily sellable.
Your business can perform very well when the investment on Instagram is actively engaging, by being quality, sharp, and with the right aesthetics.
Social media marketing on Facebook and Instagram has opened up abroad range of E-shops that you can easily connect with your E-commerce platform for easier sales and revenue collection.
Other social platforms for you are;
LinkedIn, Twitter, and Tiktok are racing up to help in social media marketing too.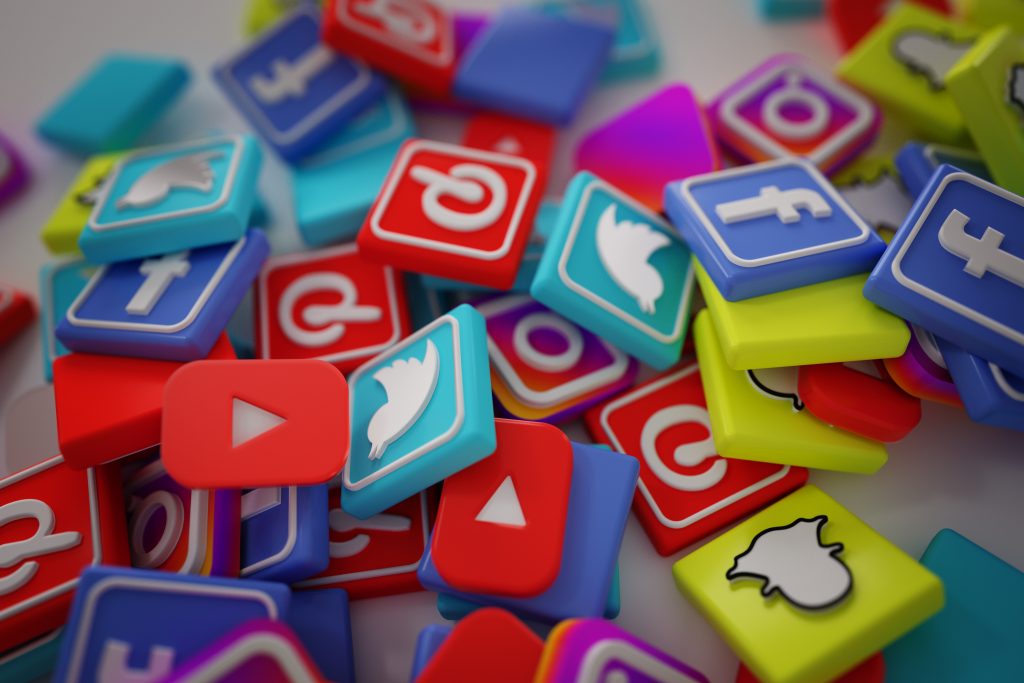 However, you'll feel some bit of sluggishness compared to Instagram and Facebook in them.
LinkedIn for example employs a lot of professionalism in messaging and some of the customers here would only demand being partners or shareholders.
It would be wise to tailor your messaging in a manner that would be eloquent and proficient for them.
Tiktok and Twitter type of marketing will only help you in strategizing with the type of messaging and content you need to dispose of.
Twitter briefly builds up on hashtags and several images that have consistent retweets. Tiktok has already created a foundation on short videos and it would be wise enough to use this while selling your merchandise to your customers.
"The only secret for your success in these platforms is consistency, timeliness, good customer service, and creating appellate content to your target audience."
Building upon the final steps of making your social media profitable.
Choosing a platform is not a problem, having a social media presence is not a problem, creating a shop is not a problem too.
The problem will always come when you won't stage an active marketing campaign that will be profitable for your business.
Don't worry, here are the steps you can use to become different and profitable;
Choose a channel for your marketing campaign – This is always the first step of creating an active marketing campaign. If you want to focus your campaign on either, Facebook, Instagram, Twitter, or any other platform, then this is the sowing stage for you.
Have a brainstorming plan – Look at some of your competitors, what they are doing in social media marketing. Have a pilot campaign strategy for your business.Just make sure you gather all the creativity, concepts, and design and align your consistency.
Check other fields – If your business is in the fashion and lifestyle industry, you can broaden your ideas by looking at what other industries are doing. Keep in mind social is a lot about being creative.
Classify your target audience/market/customers – Very important for your business. Have a call to action, strategize on the typical sales, demographics that will be the driving growth for you.
Employ Social media Influencers –These groups of people are often referred to as digital content creators. Lately, they have been driving sales for so many brands in one of the fastest-growing agendas called Influencer marketing.
You are sure to get more traffic when you use them.
As we wrap up this conversation, you have to understand that some social media channels such as Facebook and YouTube allow you to boost your posts to reach a wider audience too.
Either way, depending on your intention to build your audience over time organically, or buy them through ads, social media marketing will always look like a lot to handle.
You need to have a strategy, test it well with your socials in a mix of messaging video, and audio, creating an eloquent atmosphere for your prospective customers.
There are several social media listening tools all over, which will help you refine your campaign thus leading to incredible results and profitability.
More importantly to note is that social media is not free, it comes with both shares of love and hate, and you need to put an added cash for faster growth too. Therefore understanding how to operate here would help you win more customers.
Don't feel burdened though on this, social media marketing is one of the most profitable strategies when approached with the mindset I have outlined for you.
In case you have more challenges demystifying this you can always contact us at [email protected], Tel: 0708 088 114 or visit our website www.twiva.co.ke. We are always ready to help you with any social media marketing issues.